Objective:
Provide two useful ways to search for oneworld reward flight availability, and highlight idiosyncrasies associated with certain partner airlines.
American Express Platinum Card®
Receive 50,000 bonus points when you spend $3,000 in the first 3 months.

Get a $200 travel credit & airport lounge access worldwide.
Learning Outcomes:
Know which airline search tools are best for finding oneworld partner airline award space
Know which airlines/cabin classes will be hard to find with points
Understand the limitations of the American Airlines search tool
Suggested Prerequisites:
Beginners Guide
Understanding Airline Alliances And Partnerships
Using Google Flights To Search Route Networks
Introduction
Oneworld is my second favourite airline alliance, after Star Alliance. While oneworld doesn't have as many partner airlines, they do have some very important members, including British Airways and Cathay Pacific. Furthermore, Alaska Airlines partners with many oneworld members, with some of the best redemptions rates of any programs. Unfortunately for North American Airlines is the primary domestic carrier, and reward availability is terrible for travel in premium cabins. I find the two most useful airline search tools for sourcing oneworld availability to be British Airways and American Airlines.
Some things to know before starting your search:
Oneworld award space is more difficult to find than Star Alliance, as all of the search tools are far from perfect, and generally you need to cross-reference more against phantom availability
Qantas award space in first class is nearly impossible to find
American Airlines releases the least amount of premium cabin award space, especially on long transpacific and transatlantic flights
Cathay Pacific releases a lot of last minute premium cabin award space (1-2 weeks out)
British Airways has stopped showing last minute (within a week of departure) award space for Cathay Pacific, so calling in is basically the only way to find available seats if booking within a week of departure
How To Use British Airways To Search For Oneworld Award Space
The British Airways search tool is my starting point when searching for award space on a oneworld partner airline. While the website is clunky, and the process can be cumbersome, I appreciate their full access to all partners and clean display results. Unfortunately you can't search by month like most airlines, and the website is also susceptible to a lot of glitches. Before you search, you will need to sign up for an account, which can be done in a couple of minutes from the British Airways homepage.
Once registered, you can login from the same homepage, and search for flights by navigating to the executive club reward travel search page.
After clicking on spending Avios, you will need to find the section for booking reward travel.
Clicking on 'Book a reward flight' will bring you to the search engine. The search engine is relatively simple to use (although getting there isn't as easy as most airlines). Like any search, i recommend looking segment by segment, and in one direction at a time. Let's continue on with our example from the 'Searching Star Alliance Partner Award Space' module and try to find a return flight from Bali for Tyler and Britt.
Tyler plans to stay about 10 days in Bali, and wants to fly a different airline home. He has a large amount of Alaska Airlines miles, and knows they are partners with a couple of airlines that fly over the pacific. By using Google flights, he knows there is a one-stop option through Hong Kong on Cathay Pacific, and decides he will start his search efforts there. Although he plans to use his Alaska miles for the redemption, he knows Cathay reward space isn't searchable using the Alaska Airlines search tool, so he decides to use the British Airways website instead.
First, he looks for flights from Bali to Hong Kong
He lucks out and finds availability on his preferred date, with a flight operated by Cathay Pacific!
Next he searches for a flight from Hong Kong to Vancouver. He knows from Google flights that the Hong Kong-Vancouver flight departs just after midnight, so he changes his search criteria to the 18th of July and find award space in business class.
Now to book, Tyler simply calls into Alaska Airlines and provides the agent with the preferred flight details. Easy as that!
A couple of things to consider when using the British Airways search tool:
Like all search engines, British Airways can sometime show phantom availability.
Sometimes Alaska Airlines has a delay in showing award availability. In other words, if Cathay Pacific releases award space on Tuesday, it may be available immediately to British Airways but not viewable to an Alaska Airlines agent until Thursday. Though I haven't nailed down a specific trend, this seems to be more problematic with first class award seats within two weeks of departure
The website is slow and often crashes, so be patient
How To Use American Airlines To Search For Oneworld Award Space
While British Airways is my preferred search tool for award availability with oneworld partners, I sometimes like to reference American Airlines for less complicated bookings, or to double check against phantom space. American is great in that you don't need to be registered to search, and they have a relatively reliable calendar function that allows the user to see a quick snapshot of award availability across many days.
Also know that American will only show award space for the following airlines:
American Airlines
Finnair
Qantas
British Airways
Royal Jordanian Airways
Alaska Airlines
To get started, simply search for a flight from the homepage and select 'redeem miles'
The search results populate with a one-week snapshot of availability and default to economy award pricing. Like United Airlines, American offers 'AAnytime Award' pricing, which comes at a premium and only available using American miles, and not partner airlines. To find partner award space, you will need to focus on finding 'SAAver' level awards, which there are plenty from Vancouver to Los Angeles.
Click on 'Show full calendar' to get a snapshot of availability for an entire month. You can choose your cabin preference at the top, and any seats in that cabin will be highlighted in the associated colour. For example, I selected Business SAAver and find availability on every day.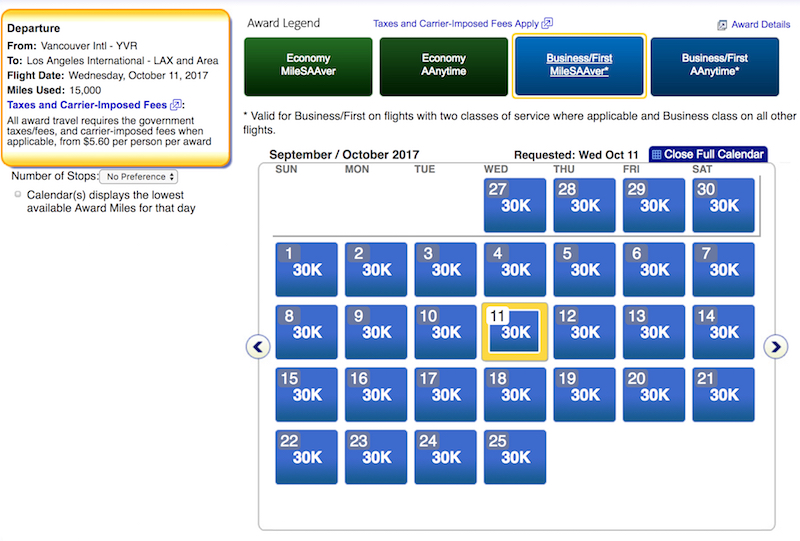 However, when I filter for direct flights only, the availability drastically changes!
Clicking on my preferred date, I can choose between the flights, and filter them by carrier, number of stops, etc on the right hand side.
While I find this search tool really useful and easy to use for domestic flights, it becomes a little bit frustrating for international flights. For starters, American doesn't display award availability for Cathay Pacific, which is my oneworld carrier of choice. Secondly, the calendar may show business or first class SAAver award space, but only once you click through to the flight details do you realize it's actually only premium cabin on the short positioning flight and economy on the long haul segment.
While neither is perfect, I do find British Airways and American Airlines the best search tools for oneworld award availability. I will also periodically use Alaska Airlines for specific oneworld partners, as outlined in the post 'How to Search For Alaska Airlines Partner Award Space'.
American Express Platinum Card®
Receive 50,000 bonus points when you spend $3,000 in the first 3 months.

Get a $200 travel credit & airport lounge access worldwide.